High Efficiency
●This motorless, maintenance-free design produces LED animations including simulated rotation, flashing, and pulsing effects.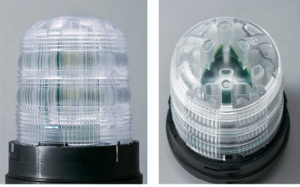 ●The SF is designed with PATLITE's newly developed multi-fresnel lens. This thin, rigid lens is capable of collecting and diffusing light more effectively than a conventional lens.
Wide Selection of Light Patterns
●Select from 22 light patterns to indicate various statuses at your work field. The light pattern can easily be configured by adjusting the rotary switch and wiring channels.
[Examples of Usage]
● Reduce brightness during night time
● Adjust flash speeds depending on urgency
● Adjust rotation speeds depending on level of danger