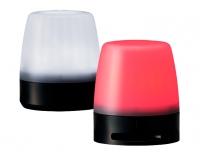 NE-USB
USB Controlled Multicolor Signal Beacon
USB Bus Power & Easy Control.
Multi-color: 7 colors can be displayed to meet your application requirements.
Supply power through bus power and controls with one cable when connected to a PC.
Easy programming using the DLL software library. It can also be controlled by various protocols, so operating systems other than Windows can be used.
Control is possible without installing dedicated drivers because it is an HID class device.
Ideal for office and retail applications. Get gentle yet noticeable notification with the soft light from the translucent lens and alarms that are easy on the ear.
Neodymium magnet type allows easy installation on desks and walls.
In addition, the 1/4 inch screw receptacle supports a wide range of mounting methods such as tripods. ※NE-SN-USB
Pole mount and wall mount options available (NE-001D for pole-mounting and NE-002D wall-mounting).
※ A USB cable (type A male to type C male) is not provided. To be obtained separately by the customer.
※ Programming knowledge required to control unit from PC via USB port.